A

few years ago I picked up an old sketchbook dating 1899-1900 by a Donald Gilbert in an Allen, MI antique shop. Tucked inside was a guoache painting/illustration signed T. Victor Hall, 00 (1900). There was a well known American artist/illustrator from 1879-1965 named Thomas Victor Hall and was born in Rising Sun, Indiana. Hall attended the Cincinnati Art Academy at about the same time this guoache was dated
and later moved to New York. He wrote a book titled, First Steps in Pictorial Composition, published in or around 1934.
I did a check for signatures but the only one I found was some 47 years after this painting was done and in script. I would like to know if this is an early Thomas Victor Hall. Could Donald Gilbert have been a classmate at the Cincinnati Art Academy? It's not unusual for students to exchange sketches while in school.

A 1921 article from the New York Times, Art Exhibitions of Paintings shares the following:


"Among other interesting canvases are T. Victor Hall's little nude girl on a sofa, very beautiful in color".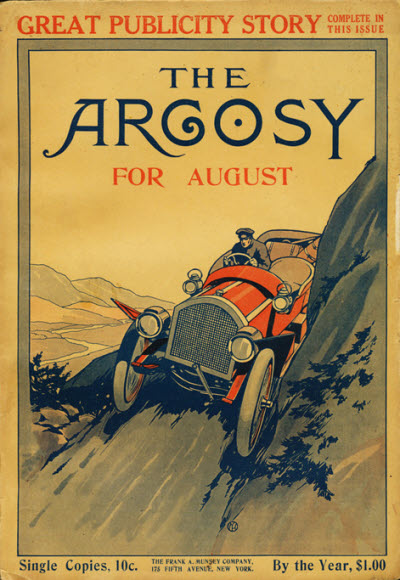 To the right is an early illustration by T. Victor Hall from 1909. There seems to be some similarities between my little Pierrot painting and the August cover of The Argosy. The monochromatic color scheme using blues and oranges is very similar to the painting I found. The Argosy was an American pulp magazine, published by Frank Munsey. It is generally considered to be the first American pulp magazine. The magazine began as a general information periodical entitled The Golden Argosy, targeted at the boys adventure market.
T. Victor Hall was a regular contributor to several magazines but my favorite is his work in the St. Nicholas magazine. I purchased a copy of the magazine in my quest for more information on this artist. The St. Nicholas Magazine (1873-1941) was a successful American children's magazine, published by Scribner's beginning in November 1873, and designed for children five to eighteen. The magazine was edited by Mary Mapes Dodge—remembered for Hans Brinker or The Silver Skates.
Just another great archeology find! For some people it's just old stuff but for me it's a story that needs discovery. What a great find. To my knowledge this is the first publication of this illustration. It only took 110 years.


========= UPDATE 1-24-10 ============